I made a podcast
"Every form takes you somewhere else." — Eileen Myles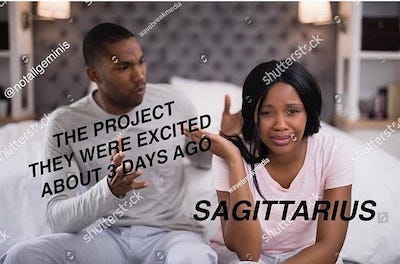 Did you think I'd send out that one note last week and disappear? No?!? Well I did, so thank you for believing in me!!! To be honest, this e-mail and its contents have me feeling very exposed. Before we get to that, I wanted to share a couple of things that came up for me this week w/r/t confidence. On Tuesday I texted my friend Nana Aba, "damn, I just wrote my bio and now I'm feeling myself." And then on Wednesday, I went to Vocal Fry Studios to record an introduction for what you are (hopefully) about to listen to and the experience made me want to dissolve and slide into a sewer. 🤔 Confidence is ceaseless practice.
But as I was battling self-consciousness in putting this together, Free came through with an Eileen Myles quote that perfectly fits my life at this very moment:
"I'm a Sagittarius. I don't belong anywhere. Every form takes you somewhere else. Writing a libretto made me understand something that theater never did […] It's like the words' second life. I usually feel burned out by whatever I just did. I know one should do this towering, phallic thing in their career, but I like having a wide, dilettantish, female career. Poetry's like the root, like a cutting."
Which brings me to BURN OUT — THE PODCAST

I do know what I'm good at though — having deep ass conversations. It's why I do what I do for a living! And I know it's earnest to the point of cliche, but I really care about Canadian music because it can teach us more than we currently understand about the people, communities, politics, and history of this place. Since music is often more accessible to makers than, say, a film or art practice, that insight can be really granular and precise.
This summer, I was thinking about this and the artists whose tenacity I admire: people from Toronto who just keep making stuff — even though it's really hard to make a living, even though national arts media is dwindling, even though it might be more fruitful to just leave. People who are making things so that others can keep going.
Shad, rapper and host of Hip-Hop Evolution, who thinks we can basically change the world by being more vulnerable with ourselves and each other;
Sydanie, rapper and mom, who shares how music can confront trauma (and offers some critical perspective on social and class politics in Toronto);
and Tanika Charles, singer and touring machine, who imparts serious wisdom about practical and spiritual ways to focus.
Thank you for listening as I take these shaky steps forward! Thank you to the artists above for being so damn open. And thank you Kawhi and Siakam.
---
🔊🔊🔊MORE STRONG VIBES🔊🔊🔊
Akua, "Offering"
Earl Sweatshirt, Some Rap Songs
"That's where Detroit techno really comes from, diverse radio." — Mad Mike Banks