Here's to a wholesome 2k19
HNY HNY HNY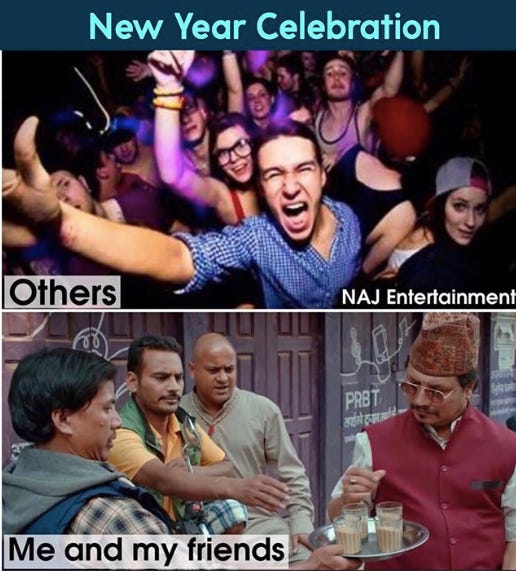 Have you filled out your Year Compass yet? Are you setting achievable intentions for the year and not waste-ass goals that will ultimately make you feel bad about yourself? I hope so! The best work I did last year was on myself! That kind of labour is often not seen as work but it was (phew!), and continues to be, the most difficult project I've undertaken. I wanted to share that earnest truth with the hope that it might give you a wholesome perspective on the year ahead in these first few days of 2019.
Speaking of eager truths, did you see Rawiya's entry for Slate's 2018 Music Club? She wrote about artistic and scene-specific anti-artifice as a humanist response to the supremacy of the algorithm, streaming, and aesthetic ambiguity. AND I'M WITH IT. She also references some of my favourite records of last year: Kacey Musgraves' Golden Hour, Popcaan's Forever, Gaika's Basic Volume, Kamaal Williams' The Return, and Tirzah's Devotion. All are different flavours of sublime.
After reading Rawiya's piece this morning I thought I'd take a cue from this point:
"The artists with the most cultural impact are rarely the ones who stream the biggest. This is no groundbreaking point, of course, but I'd like to think about how to more effectively challenge the streaming-platform narrative before the robots take over."
My tiny fist-shaking challenge to the hegemony of streaming and promo cycle directives is that I'm using my first newsletter of 2019 to tell you about some of my favourite 2018 records.
You will not, I hope, be surprised that they are all by artists from Toronto, all hard-working people who I know and respect. An unabashed appreciation for hometown vibes has been the earnest through-line of my career, something that continues to give me a sense of purpose. But what also ties these records together is that they tease out the broader mythologies of a place.
Zaki Ibrahim's The Secret Life Of Planets is a blast of optimism straight from the diaphragm. The R&B that excited me four years ago now feels cynical and detached. Zaki's music is densely hot and features synth patterns that give me ASMR-type tingles, but more important is that it connected me to a beautiful story of life and death, as well as a range of sounds spanning soul, boogie, and house. It's a record that sounds like the multitudinous experience of being a Torontonian, where you can be from everywhere at once.

L CON's Insecurities In Being was probably my most played album of the year. Lisa wrote, produced, and arranged the whole thing, and seeing her perform songs from it live with a full band (incl. clarinetist Karen Ng) in a sweaty loft space on Toronto's east side last summer was one of my favourite memories of the year. The album was written in a moment of creative reckoning, and because I was experiencing something similar when it dropped I related to the vulnerability, anxiety, and self-deprecating sadness in songs like "Try" and "The Art Of Staying Tough" (featuring beautiful vocals by Casey MQ) and "Some Sort Of Sign." But more crucially: It's an experimental pop album about the existential burden of being a working class musician, and that message felt especially resonant as I was returning to a Toronto where live venues are closing en masse, bars are being silenced by NIMBY neighbours, violence is infiltrating music communities and discourse, the vegan industrial complex carpetbags in a neighbourhood that's ground zero for housing activism, and arts funding continues to dwindle.

This context, which is a variation on the homogenizing havoc being wreaked on big cities around the world, is the backdrop for how I hear Bonjay's Lush Life. Listening while settling into a Toronto apartment a short walk from Lake Ontario was a much different experience than when I'd first heard the album in New York. The street facades here have changed, but Lush Life is a snapshot of the city I fell in love with years ago: loud, Dickensian, mix-up. It might be the last record that captures the 'old' Toronto, an under-documented place, where diversity wasn't a corny marketing tagline but a lived experience. Of course, albums have come out of various scenes and neighbourhoods here, but I can't think of anything since K-Os' Joyful Rebellion that invokes the full complexity — and over a riddim too. Yesterday I walked by a signboard outside of a hair salon, advertising $15 haircuts with a beckoning addendum: "We speak: Greek, Mandarin, Cantonese, Ukrainian, Tagalog, Hindi, Spanish." I felt relief. As we witness change, there's a locus of this city's composite soul in Lush Life.
---
🔊🔊🔊MORE EARNEST VIBES🔊🔊🔊
Iman Omari talking about a classic J*DaVeY record on my fav music pod, Heat Rocks
Legendary Philly pop music arranger Larry Gold
Durga Chew-Bose on Recho Omondi's great fashion pod, The Cutting Room Floor