Everything you need to grow will be given
+ new season of the podcast starts today! 🎧
Happy 2020!!!
I've been saying it for the past six weeks. If feels nice to be able to wish someone something when you bump into them on the street for the first time in a while, or when you send an email to a person you haven't hit up in a couple of months. It's kind of the nicest thing about the holiday season, the thing that gets obscured by all the 'keep the Christ in Christmas'-type squabbling — we need to just say nice shit to each other. So happy 2020, happy valentine's day, and, if you're in ontario, happy family day aka thank you for a long weekend in february.
I don't have much to say right now. Every week feels like it brings new ways of looking at a situation, new questions to ask myself, or a new discomfort to befriend. Maybe I'll have something to say about it in the future, but for now: I hope that you're finding small ways to be present with whatever life is bringing you!
Last week I had tea with my downstairs neighbours, a couple with a deep meditation practice. It was a nice visit — I'm very grateful for my neighbours!! — and they successfully convinced me to register for a Vipassana meditation retreat later this year. Sometimes this pivot I've taken toward a very different world of relating to and understanding life makes me feel weird, and it's nice to have pals who are also journeying. Later in the evening as I was trudging home from yoga, I received a WhatsApp from them with a link to this short talk by their teacher, Ajahn Geoff. It's called "Getting Comfortable Being an Outsider," and the first line is: "We suffer largely because of the way we talk to ourselves." I'm sharing with the hope it might ease the tough moments that sometimes accompany the start of a brand new year.
—
If you're looking for something a little livelier: the new season of Burn Out is now here!!!!! And a big change: I'm releasing episodes every other week, instead of in batches of three. The first episode features Rosina Kazi, one-half of the long-running electronic duo LAL, and a member of various arts, organizing, and radical queer communities here in Toronto. She is an inspiration. Someone who lives by her values but has also seen them through multiple iterations; it's a wonderful chat about how our virtues define us in multiple ways.
**cLiCk***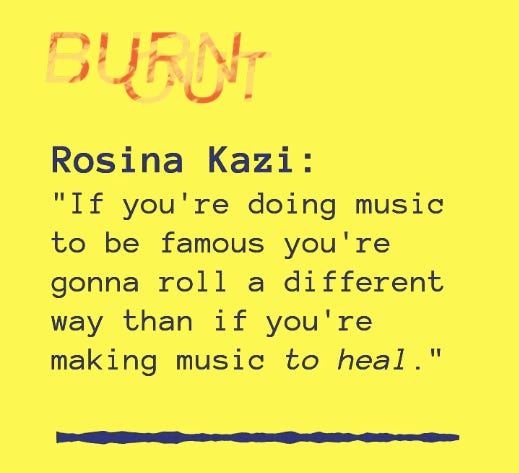 I'm getting more comfortable requesting that you follow (Burn Out is now on IG also!), subscribe, rate and review the podcast, and if you really like it: share the show. It helps this project grow! I did not think I'd still be making this wholesome little podcast about Canadian artists after the first three episodes, and I thank you so much for growing with me!
Lots of love,
Anupa
---
If you're in Toronto: come and see Burn Out LIVE! 👀👀👀👀👀
I'm doing a live taping of the podcast at the Year 8, Volume 4 edition of Long Winter at Workman Arts, and VERY EXCITED to share that my guest for the future episode is Backxwash, a Zambian rapper living in Montreal who makes very punk music about trans identity, decolonization, indigenous spirituality and so much more.
For more info: torontolongwinter.com