BURN OUT 006: Work with what you've got
👩🏾‍💻👩🏾‍🎨👩🏼‍🚀👨🏻‍🔧👨🏿‍⚖️🏋🏼
Hey — It's been a while. The last month was filled with a lot of work, perhaps too much. I felt tired and frustrated, distracted, less present, closed off. I loved what I was spending my time doing — writing, producing, traveling, seeing friends — but I also noticed that my moods were seesaw-ing again, and that I was getting more anxious throughout the day. It felt like all of the good work I'd done on my brain over the last six months was being dashed away by the demands of returning to 'regular life.'
And then I asked for an extension on a deadline, and said no to some things, and got some extra sleep. And then I got a rejection letter for a residency I'd applied to. All of a sudden the future-casting I'd been getting high on, the same future-casting that was making me feel lowkey anxious instead of present, just dissipated. I'd intervened (and life did too) in allowing my old ego-based patterns of seeking validation, mastery, and comfort, to run the show. Turns out I still want to be some undefined person, instead of being who I already am.
(Also, Khalila's newsletter gave me permission to accept that transitioning to warmer weather can sometimes be a battle between optimistic mind and winter-weary body. Be patient if you need to move slow for a sec!!)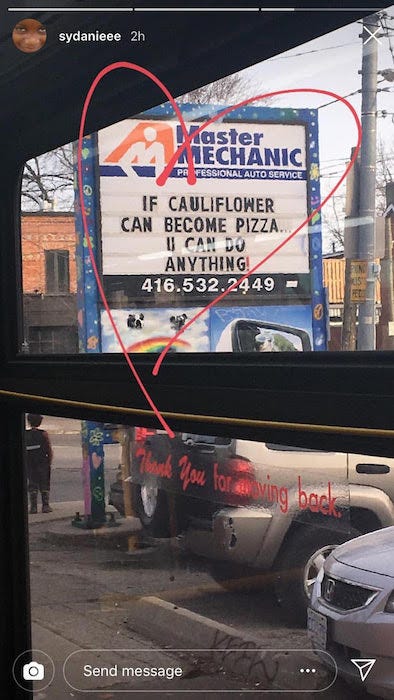 I meant to send this note out last night but then I heard about Nipsey Hussle's death. Writing an inane note about my feelings felt stupid so I spent hours watching videos of various interviews he'd done over the years. What I admired about Nipsey was his consistency in message: even as he grew older, made more money, became a father and a businessman, got involved in local government and in advocacy work, his moral clarity never wavered. Whatever cynicism he might have had, it wasn't a distraction. You might say he was a real one. This is a quality inherent to the people I admire most, from Bill Withers to Sarah Schulman to my friend Rodrigo. I've always hated that old refrain that people 'grow out of' their politics — it's so derisive. Something I find beautiful is how, if allowed, our morals ripen as we age into new forms of nourishment. Being a better person isn't solely for the young.
And part of being a better person is not taking shortcuts. It is working with what you have, not as a kind of scarcity performance art but because that is the closest way of ensuring your vision — your goals — aren't tainted by the narrow or incompatible vision of others. Or, as Nipsey put it in this interview: "You could watch what other people are doing… and it'll start poisoning your process and you want to skip steps. When I didn't have a deal, we did mixtapes because that's what we could do — we could buy some equipment, pay a producer to use the beats, and put it out. When I didn't have a fanbase or the internet, we sold out the trunk. I just believe in embracing what you've got around you, and as your resources grow — level up."
All of the tension I've felt over the past month is because I wanted to skip steps. Even while pouring my energy into work that felt more truthful — that feels more truthful — my mind was hoping to speed up what felt boring, or uncomfortable, or invalidating. In true Sag style I was impatient… impatient to be better.
On that note: I wanted to share something with you that I made and debuted at A Space gallery in Toronto this past weekend as part of Pamila Matharu's solo show, One Of These Things Is Not Like The Other. I was so nervous about this because I don't know how to edit video, and because I didn't want people to think I was trying to be something other than a writer, and because my parents came to the event. Those were all of the feelings I was trying to mitigate, while also knowing I wanted to do this because it felt right.
Click for a more detailed description of this piece, the inspiration, and the 'tracklist.' If it resonates with you, please feel free to share, embed, etc.
Thank you, as always, for subscribing to this newsletter and taking the time to read.
If you're in Toronto, I'll be speaking at Trampoline Hall this coming Monday, April 8 at The Garrison, curated by Emily Keeler and Charles Yao. Tickets go on sale Thursday, April 4 @ 10 a.m. I'll be talking about yoga :)
Lots of love,
Anupa