BURN OUT 003: The Monogamy of an Idea
💍

Is everyone burnt out on talking about burnout (or, more specifically, 'millennial burnout') yet? TBH, the thing that's got me the most fucked up about this conversation is that I didn't consult the Canadian Press Style Guide or whatever before creating my 'burn out' assets. The fact that this newsletter's title is grammatically incorrect ('burn out' is a verb) will haunt me forever. 😩😩😩😩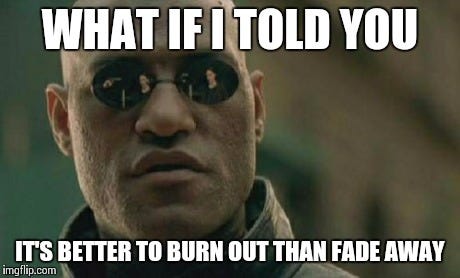 (honestly idk i just found this when i googled 'burnout meme')
I'm not trying to be derisive; this newsletter literally takes its name after this affliction! To be very real, I guess I'm just feeling a little defensive, maybe bracing myself for the eye-rolling that often follows an idea or object being trend-pieced tf out. I hope you'll stick with me!
Moving on: I've been spending my days in development for a pop music docu-series that you'll be able to see on Netflix (🌍) and Crave (🇨🇦) in the future. We're starting writing this week. I'm excited about the challenge of working in a different medium but, because I'm in burnout recovery, I'm still having a hard time focusing on doing one thing. Over the last six months I've had to learn to create boundaries around work, as well as my personal life — but especially around my ego, which was making too many decisions that would've been better handled by head and heart. I like what Thebe said about this tendency and/or expectation that we go full-throttle in our perceived roles for the sake of the algorithm: "The deification actually works in total opposition to what I'm trying to do, which is to humanize the situation," he says. "One thing I know for sure is I want to be normalized. I'm here, n-gga —not in a chest-thumping way, but as in, I'm here with y'all on Earth."
I can't tell you how much that sentiment, and the rest of the interview, moved me. It makes me feel tactile and grounded, just like the bare plea in Robyn's "Human Being." Why are we wasting so much energy feeling anything less than human?
Did this get a little intense? Sorry, I've become obsessed with Tara Brach since summer. Burning out definitely turned me into a little bit of a woo-woo bitch!!! Let me close by sharing a few links that feel more instructive on this topic beyond the rawness of feeling:
On an episode of her new 'micropod,' Mary HK Choi referenced this phrase that the writer and novelist Alexander Chee (whose 2017 collection of essays How To Write An Autobiographical Novel was a big fav) used in an interview about process and working on one thing at a time: "the monogamy of an idea." I love this thought, as well as how Mary furthered the analogy by exploring the temptation and instant gratification that comes when we detour into another "sparkly new" idea, after staring at one thing for so long.

If you're not into monogamy as praxis then here's another way of looking at it, via one of my favourite websites, The Creative Independent: world-building. "You have to think about what you're doing as creating your own world—and then totally believing in it," says the musician Juan Mendez. "That's the best way to get anything done. What are other people people doing? Who cares? You don't care. Because what you're doing matters the most to you. And you just keep going."

Lastly, a plea to check in with yourself because, "Personal productivity…serves the same psychological role that busyness has always served: to keep us sufficiently distracted that we don't have to ask ourselves potentially terrifying questions about how we are spending our days."
Talk soon —
Anupa
---
🔊🔊🔊MORE HUMAN VIBES🔊🔊🔊
💄Freddie Gibbs' most recent album, Freddie, is greezy af and no one told me?
✊🏾D'Angelo continues apace: "May I stand unshaken, amidst a crashing world?"
🙏🏾On fucking looooop: Duendita's beautiful Direct Line To My Creator (h/t Naz)
✝️ Duncan's newsletter about very human saints, heaven 24/7
💰A beautiful way to give back: Vivek Shraya's new $5k grant for a BIPOC Canadian musician, between the ages of 18-28, to record their first EP.