015: Not a list, but if so, undefinitive
"Why should such minimal social needs be so threatening?" Adrienne Rich
Here's what I'm feeling grateful for in the last days of 2019:
Year Compass: An incredibly useful (and free!) tool for looking back at the past year and planning for the next. Redefines accomplishment through the lens of personal wins rather than external successes.

Living by the lake. Only finally, about a month ago, did I start going for morning walks along the stretch of lakefront between Palais Royale and the Humber Bridge. Some mornings I see an old man in red Buddhist robes doing a small prayer ritual along the shoreline. He lights incense, chants, and plays a hand drum. I know he's there before I can even see him because a small crew of ducks gathers in the shallows, near his crossed legs, keeping him company. Yesterday I stood on the bridge overlooking the rough waves created by cold wind smacking into the blue-green water. A group of ducks (buffleheads, I think) seemed unperturbed, bobbing jauntily on the rough surface, and it reminded me of my favourite Tara Brach-isms: "When we trust that we are the ocean, we are no longer afraid of the waves." I remain grateful for Tara Brach!

Black thinkers like Imani Perry, Saidiya Hartman, Christina Sharpe, adrienne maree brown, and Achille Mbembe, whose ways of seeing and reframing the modern world and condition(s) keep my mind busy, and my spirit energized. Sometimes I regret not doing my masters because I would have discovered this writing earlier.

Vivian Gornick. Sometimes I regret not studying English or creative writing because I've never really understood 'how' to read. What I mean is that even though I've always loved to read, I never learned to trust my literary instincts until recently. Really, I didn't think I was smart enough to know what was good, or useful, and I felt (still feel!) less well-read than my peers. I read 62 books this year!!!! And I'm thankful to have finally experienced the spirited gaze of Gornick, who I know I will be reading forever.

New friends! And old friends that became new friends! Opening up their homes and hearts in Jamaica, London, and Toronto, and showing me the possibilities.

Laraaji. I spent a bunch of time this year making yoga playlists, and struggled to find instrumental spiritual music that didn't feel like a haphazard and paternalistic violation of the Hindu mantras and bhajans I grew up listening to and reciting. Hyperliteral transference of a unique world of melody, pitch, and phrasing, onto a Western classical scaffolding? 🤮 Laraaji has offered a way through. If you're interested, here's my master playlist that I use with home practice, to get a sense for how the music feels with movement.

Tuca & Bertie. Tiffany Haddish is a gift. This show, about two self-sabotaging 30-something best bird friends, was my Fleabag. Yeah I said it!

Golshan's cottage: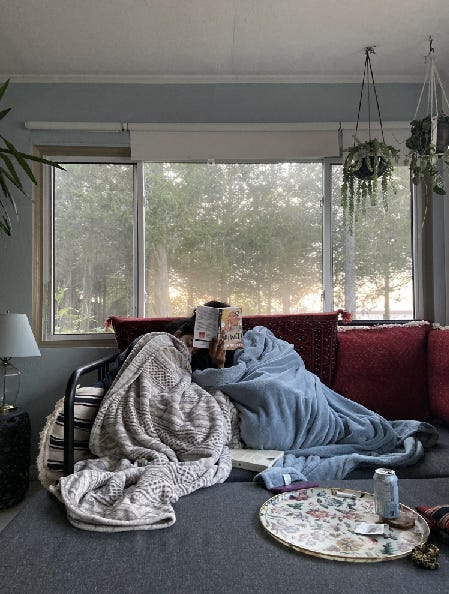 Mentorship. Naturally, I asked Rodrigo to be my mentor after years spent roasting him for being slightly older than me while also asking about jobs and how to build a career. I never thought I'd have a mentor! What makes a good one? A person that you'd consider an OG, whose career and personal ethics you admire, and who sees the ethics in the professional choices that you make. As an addendum — over the summer, I thought I'd found the perfect yoga mentor: an older WOC who teaches a pared-down flow with an emphasis on meditation and breathing. Turns out that a yoga auntie is still an auntie. I was grateful to be reminded that you can still learn from imperfect people, and that my tendency to seek out elders is usually a way of avoiding my own voice and expression.

Free-range chickens!!! We were driving too quickly for me to capture the moment in a photo, but the most enduring mental image I've held this year is of three beautiful chickens sprinting in formation across a country yard. I'd never considered chickens to be particularly expressive animals — I guess I've never seen chickens that weren't somehow fenced in or confined — but the freedom in their bouncy steps made me emotional! Not enough to stop eating chicken though 🙊

This recent piece by my friend Rawiya, about the healing benefits of deep breathing, reminds me that above all, I'm the most grateful for relationships in which both (or all) parties continue to grow individually, together.
Finally — I'm so humbled by the conversations, connections, and opportunities that have grown out of this little digital space. It has been a year of deep change, and I'm slightly mortified that some of that process was documented via a bunch of emails to mostly strangers. Your continued support of this project is a sort of kindness I didn't think I could expect. Thank you, thank you. More to come in 2020.
Lots of love, and happy new year,
Anupa