014: Lists rot your brain ok!!!!
"Only usually singular, only the one, in that one point of view obscures suffering." — Christina Sharpe
Most of the things I like never really warrant the type of irrational formatting of LISTS anyway, because I don't love thinking about things vertically or in a kind of hierarchy. I just like things, and then I think about them. Perhaps I'll tell a friend, or post about it on Instagram or Twitter. If I like it enough to say something interesting about it, then perhaps I'll find a way to write about it. But even that kind of compulsive liking can feel a bit wretched, as if you're trying to justify the worth of an art object within an intellectual marketplace. The whole thing distracts from the idea of art as a way to stimulate curiosity, understanding, and a kind of personal shift, for the sake of liking things in order to keep large industries afloat.
Perhaps this seems like an odd position for a critic (I'm retching just typing that) to say. But I want to differentiate between the kind of holistic 'liking' that bubbles up the torso from your stomach, or makes you feel warm and tingly, or elicits laughter or (even better) discomfort, from the kind of consensus-oriented liking that often informs list-building.
I'm tired of consensus. Consensus has killed everything. The idea that consensus is something that can even be achieved is why modern democracy is showing its rotted core in so many places around the world (godspeed Britain!!). Consensus encourages binary thinking — this is good, so everything else is bad, this is the solution to my needs, so the other way must be wrong — and it makes good use of fear. Consensus is a supremacist idea, in that it shifts according to the irrational logic of the status quo.
I didn't mean for this to go from a rant about year and decade-end lists to a riposte against the way the world is ordered, but isn't it true that the systems we use to measure the most innocuous and frivolous parts of our lives are connected to bigger processes? Can we just find a new way of thinking about things, of ordering things and assigning value that doesn't feel so physically violent?!
Maybe something with the generous and reciprocal perspective I saw in this drawing by Shuvinai Ashoona at the Leonard & Bina Ellen Art Gallery in Montreal last week. Everything is on the same plane; people, animals, the world, life, death, spirit, truth, evil. I could think about it for hours.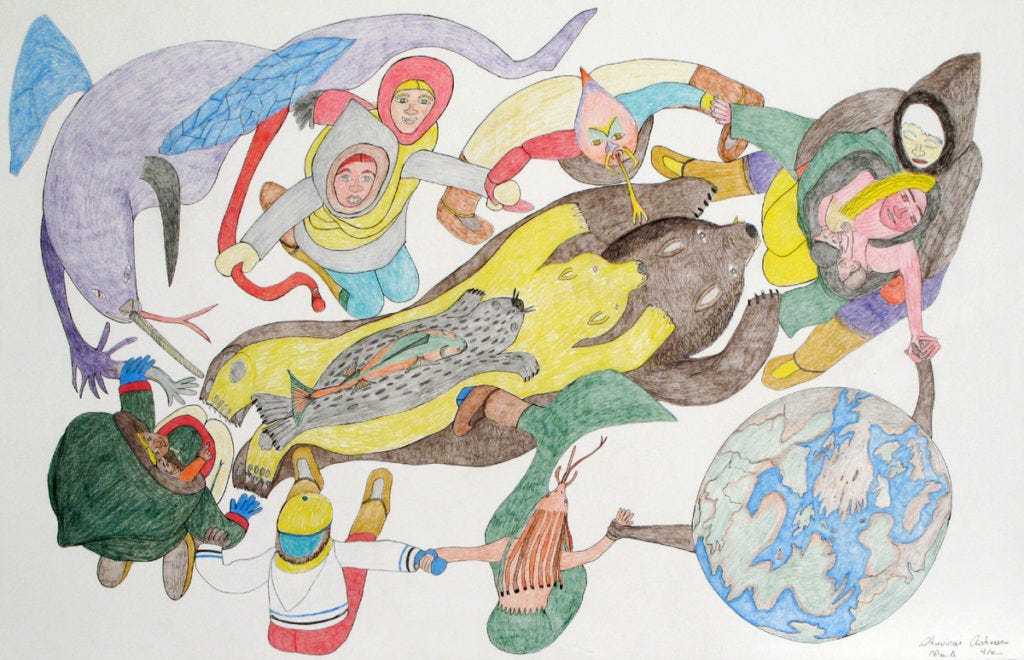 Shuvinai Ashoona, Composition (People, Animals, and the World Holding Hands), 2008.

If you've stuck with me through all of this — I want to say — thanks! Thanks for reading, thanks for following, and thank you for sharing with me online and IRL. This little online writing space has become less rigid and more free-form as time goes on. I feel confident here, even though it's scary to send unfiltered thoughts out to hundreds of people on an irregular basis. But it's good practice in not being too precious about the work. And I hope that that helps make some space for you too.
Some good news! More episodes of Burn Out, the podcast, will arrive in January 2020. I've got a bunch of great interviews that I'm really excited to share with you (including a big one with a musician whose name also starts and ends with A!). I'm leveling up with a new look and a slightly tweaked sound, but sticking with the same intimate, honest, and forward-thinking vibe. Thank you for all of your feedback, your kind words, and for sharing the show with your friends. Word gets back to me in some of the most unexpected ways! If you can spare a follow: join Burn Out on Instagram, and subscribe via your fav podcasting platform if you haven't already.
I'll be back with one more note before the year is out.
Lots of love,
Anupa
---
PS /////
A short essay I wrote for NOW Magazine on the last decade in Toronto music culture.
A lil throwback to my beauty writing days, on cultural tropes and vanity, for InStyle.
An extremely silly and heartwarming chat with Krish and Nivake about dosa, Nav (the rapper), and being a real person on their podcast High Top Flip Flops.
Jasper Lotti's video for "Bad Juju."